Simi Simi Valley Lock & Key Simi Valley CA
Services Simi Valley Lock & Key
Commercial Locksmith
Simi Valley Lock & Key offers high standard commercial & business locksmith services in Simi Valley and surrounding area. We work with Property Management Companies, Real Estate Agencies, Architects, Businesses and all kinds of City Agencies and Organizations.

Master Key Systems             
Safes
File Cabinet Locks and Keys
Card Access & Keypads
Commercial Door Locks
High-Security Locks and Keys
Emergency Commercial Services
---
Residential Locksmith
We provide a large range of residential locksmith solutions. We can repair any types of locks, safes, doors, and gates, or we can install them. The expert locksmiths that we employ can change out your locks on your doors or we can re-key them. This is good in a situation in which you don't know who has keys to the home or you lost the keys. To ensure the safety of your family, you have to do something about it.
What's another popular item you have for sale or trade? Talk about it here in glowing, memorable terms so site visitors have to have it.
Integrated Security Systems
Access Control Systems
CCTV Systems
Master Key Systems Safes
File Cabinet Locks and Keys
Card Access & Keypads
Commercial Door Locks
High-Security Locks and Keys
Emergency Commercial Services 
---
RE-KEYING LOCKS SERVICES
.
What is rekeying a lock? Re keying locks means changing internal pins of the lock, allowing a different key to make the lock open. There are several reasons for a lock to be re keyed, but to do this done as well, it will require the services of a professional locksmith.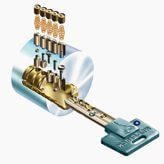 The reasons for needing to re-key your locks can range from losing your keys to your keys being stolen. Rekeying a lock is also a great alternative if you wish to keep the current locks already installed on your door. Another reason, is if you move into a new house/apartment, as you would also need to rekey or replace your locks because you do not know how many people still have keys. For a lock to be re-keyed it must have at least a National Standards Institute Grade 1 designation, or you may have to replace your whole lock. It can be expensive to replace an entire lock, so re-keying allows the old key to be replaced without replacing the entire lock. The locksmith is trained in how to do this quickly and without mistakes, plus he can make you a new key after completing this process.
Key replacement services: contact us for a free quote   (805) 527-9411
---
Lock Out Services
Many people have already experienced being locked outside their home. This experience is basically the worst thing that could happen to someone especially at night or during an emergency situation. A person who accidentally locks him/herself outside the house or car, will have little or no chance of opening the door. The only thing that can actually save them is professional locksmiths who have the expertise in opening any kind of residential & commercial locks.
---
Doors and Hardware
Commercial doors repairs and installation services. Top brand fire exit doors and hardware. Entry doors with security access controls.Quick repairs and new door installations.
---
Simi Valley Lock & Key is the original locksmith for Simi Valley, CA
Quality customer care is what we are known for.
fax: (805) 527-0681